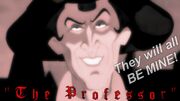 The Professor: Training/Creation of Magic

Occupation

Teacher/Main Villain of this story

Family

None

Working Relationships

Eris/John Rolfe/Basil

Students

?????


"CLASS OPEN-SEEKS THE BEST OF THE BEST!"
-The Professor-

---

The Profressor, he comes to the school, with mystery behind him. Who has taken up being the offcial trainer, for students, helping them manage their powers, to find out what helps challange each one's power with a most more powerful out come. While also a teacher in the arts of teaching all forms of magic users, how to make their own magic spells and to have an edge on, one on one magic battle.


All the while, whispers follow him, where ever he goes. The school has mixed feels, about this man.
Scaning each student with his eyes, as if he's reading their very soul, sizing them up and down. He is already on prowl for his students, is it you...?
Community content is available under
CC-BY-SA
unless otherwise noted.